THE CET NEWSLETTER
Roughly once a month, we'll send out an update on all things happening at CET and in Cuba.
There's a lot happening in Cuba and with Cuba. Cuba Educational Travel has the privilege of remaining at the forefront of the push for better relations between the US and Cuba and empowering the Cuban people and those that love Cuba. We're grateful for your support and friendship and that have and will continue to create a better future for Cubans on and off the island, along with the overwhelming majority of Americans that benefit from a normal relationship with our neighbor.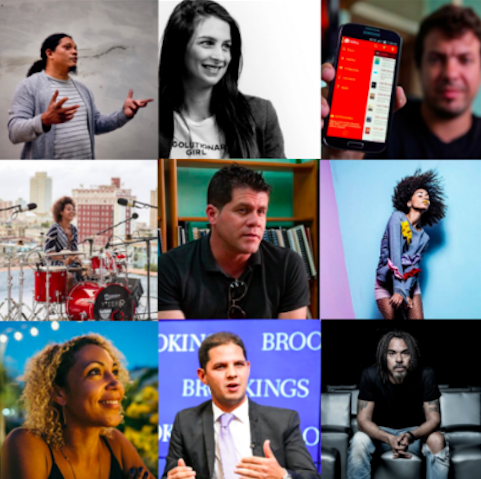 To start the year off with a bang, we caught up with some of Cuba's top thinkers and creators to find out what they expect and hope for in 2019. From entrepreneurship, the arts and design, to the economy and relations with Cubans abroad, there's lots of optimism for 2019 -- and there's a clear recognition that it will be a defining year for the island.
For those of us that believe in uniting the American and Cuban people, reconciliation between Cubans on and off the island, the freedom to travel and normalization of relations, 2018 was a year of pushing back against walls, holding doors open and fighting hard to build new ones. We're inspired and empowered by our friends like Carlos Varela, Lizt Alfonso, Richard Blanco, Cimafunk and millions of Cubans and Americans that work vigorously to build doors, each in their own way, and we'll keep up the good fight in 2019.

There's a lot happening with Cuba, CET and our partners on the frontlines! To take advantage of demand for corporate events on the island we've launched HabanaLive; our favorite band Cimafunk is making waves; Cubans are preparing for a very special New Year's Eve; and CET president Collin Laverty weighs in on internet in Cuba and the State Department Travel Advisory…
Cuba Educational Travel (CET) is privileged to be working with Cimafunk on a month-long tour of the United States that will also include community engagement programming for him and his band. CET knows Cimafunk will continue to be a powerful force in Cuban culture and will build important bridges between the US and Cuba.
Cuba is as dynamic, innovative, creative, interesting and fun as ever. There's so much going on and so little time to soak it all up. We at CET feel blessed to work in such an invigorating place and have the privilege of connecting visitors to a truly unique island and people. Keep your eyes peeled for the endless array of special events happening in Cuba.
Greetings from Cuba, where incredible people, landscapes and excursions await you. Whether visiting for the first time or returning for more, the island provides unique, unparalleled experiences that will leave you captivated, curious and content. CET President Collin Laverty broke it down recently with Startup Cuba.