The Ultimate Cuba Reading List
With a country as complicated and dynamic as Cuba, an old saying holds true: "the more you learn, the less you know". That said, whether you're gearing up for a trip to the island or want to take a deep dive into Cuba's history, culture, politics or food, our staff has put together a book list that will have you covered.
NON-FICTION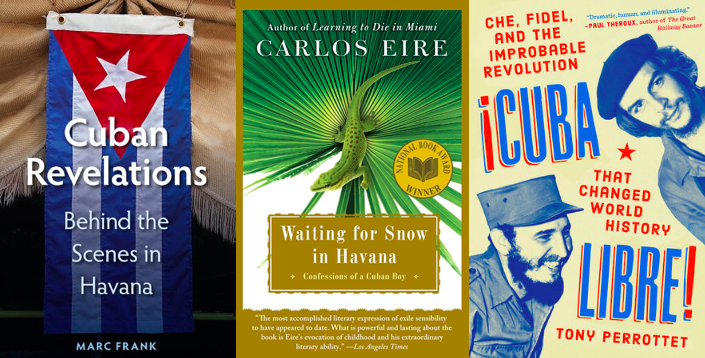 Cuba Libre!: Che, Fidel, and the Improbable Revolution that Changed World History, by Tony Perrotet

Recommended by: Isabel

An expansive and detailed story about the planning and execution of the Cuban Revolution through the eyes of the main figures themselves. The events read like they are a part of a fiction thriller.

Bacardi and the Long Fight for Cuba, by Tom Gjelten

Recommended by: Collin and Isabel

Covering the Bacardi family from a rum stand in Santiago to Cuba through the Spanish American War, the Cuban Revolution, and the election of George Bush, this book illuminates and makes sense of the long of Cuban history through a single but important family. A dense historical read, but worth it if you're into that stuff!

Waiting for Snow in Havana, by Carlos Eire

Recommended by: Gaby A

A poignant autobiography of a Cuban American who left his homeland at age 11, among 14,000 Cuban children as a part of Operation Peter Pan.

Cuban Revelations, by Marc Frank

Recommended by: Collin

Marc Frank is a veteran Havana-based journalist who explores everyday life in Cuba and its context, with historical and political references and explanations.

Cuba Confidential, by Ann Louise Bardach

Recommended by: Isabel

An in-depth review of US-Cuba politics (and meddling) focusing on the 80s, 90s, and early 2000s. It helps the reader understand the background of today's relationship between the US and Cuba.

Havana Nocturne, by TJ English

Recommended by: Isabel

An intense evaluation of pre-revolutionary Cuba, the mob, and the CIA. Another nonfiction book that reads like fiction.

Backchannel to Cuba, by Peter Kornbluh and William LeoGrande

Recommended by: Collin

An in-depth look at the political dealings during the US-Cuba detente in 2016, and the secret negotiations that led up to restoration of diplomatic relations on December 17, 2014

Che: A Revolutionary Life, by Jon Lee Anderson

Recommended by: Adam

A renown author and Cuba historian dives into the Argentinian hero's life and his earth-shattering impact on a small island 90 miles from Florida.

Havana: A Subtropical Delirium, by Mark Kurlansky

Recommended by: Isabel

Learn about the history of Havana from its colonial founding till today. Relevant for the 500th anniversary of Havana this November!


FICTION
In Cuba I Was A German Shephard, by Ana Mendez

Recommended by: Gaby A

A collection of short, fictional stories that speak to the larger phenomena of migration from Cuba and the diaspora's experience in the United States. Based off of the author's experiences as a Cuban American, the author also mixes magical realism into her story telling.

Dreaming In Cuban, by Cristina Garcia

Recommended by: Gaby A

This book plays with the supernatural and magical realism as it follows three generations of Cuban women just before and during the revolution. It's thought provoking because it shows different points of views from differing parts of Cuban society.

El Rey de La Habana, by Pedro Juan Gutierrez

Recommended by: Collin

The author Pedro Juan Gutierrez takes readers to the streets and into the home of a Cuban teenager in the 90s, during Cuba's "Special Period".

Revolution Sunday, by Wendy Guerra

Recommended by: Collin

A novel about family, trust, and surveillance in today's Cuba.

Mario Conde Book Series, by Leonardo Padura

Recommended by: Collin

A classic and gripping detective series based in Havana — you can't go wrong.
THE CLASSICS
The Old Man and the Sea, by Ernest Hemingway

Recommended by: The CET team

Readers begin to understand Hemingway's infatuation with the Caribbean island in this intense and descriptive novel.

Our Man in Havana, by Graham Greene

Recommended by: The CET team

A classic comedic novel set during Fulgencio Batista's reign over Cuba filled with informants, faulty reports, and confusing diplomacy.
PHOTO BOOKS
La Paloma y La Ley, by Lisette Poole

Recommended by: Gaby O

Cuban American photojournalist LIsette Poole follows two Cuban women on their harrowing journey through 10 countries to the US/Mexico border. Officially out in October 2019, available for pre-order now.

Made in Cuba, by Molly Mandell and James Burke

Recommended by: Isabel

This photo book tells the story of 30 Cuban artists and entrepreneurs, including many friends of ours. With a focus on Cuba's creative DIY culture, each individual's story is as beautiful as the next.

El Libro Supremo de La Suerte, by Rose Marie Cromwell

Recommended by: Isabel

Cromwell tells Cuban stories through beautiful everyday portraits and photos. The title refers to the covert lottery that takes place on Havana's streets.

The Dogs of Cuba, and The Cats of Cuba, by Emmy Park

Recommended by: Collin

Some of the best parts of Cuba are the four-legged ones. These books pay homage to many without homes.
COOKBOOKS
Paladares, by Anya Von Bremzen and Megan Fawn Schlow

Recommended by: Adam

A journey through Cuban food via the modern day private restaurants that dominate the island's culinary scene, many of which we work with!

Comida Cubana, by Marcella Kreibel

Recommended by: Gaby O

A beautiful illustrated book with all the staples of Cuban cuisine.

The Cuban Table: A Celebration of Food, Flavors, and History, by Ana Sofia Palaez

Recommended by: Isabel

A familial history runs through this jam packed cookbook with Cuban flavors you've heard of, and a few you haven't.
For a travel guide with recommendations and go-to spots in Havana, be sure to check out 300 Reasons to Love Havana, by Heidi Hollinger.
What did we miss?
Reach out on social media to let us know your favorite Cuba reads.